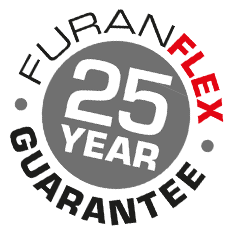 FuranFlexThe guranteed chimney restoration solution is a revolutionary new chimney lining system specifically engineered to tackle a number of chimney lining problems and is perfect for commercial or domestic condensing boiler flues, gas fires, oil heating flues and can even be used for solid fuel chimney lining.Because not all chimneys are the same shape or design and sometimes traditional lining methods cannot achieve a suitable uniform integrity. FuranFlex chimney liner has been developed to mould to the shape and run of the flue and can also be installed in any diameter and any length without joints in the lining making it completely gas tight.
This award winning chimney lining technology is made from a glass fibre reinforced thermosetting resin composite. This means when installed FuranFlex liners are as strong as steel and also resists corrosion better than steel chimney liners.
Advantages of FuranFlex
FuranFlex chimney liner is suitable for gas fires and oil heating chimneys, condensing boiler flues and solid fuels.

It can be installed without any demolition being necessary

It improves boiler efficiency and reduces gas consumption

25-year guarantee

Can be used in any length chimney without the need for joints

Complies with the route of chimneys that are not straight
Installing FuranFlex
The Furanflex liner comes deflated has to be inserted into the flue before being inflated to the flue size. Once the liner is in place the steam generator is then attached and the heating process begins.
Once hardened the FuranFlex liner is as strong as steel liners and provides a perfect gas tight chimney lining ready to use.
The installation process of FuranFlex is very clean and non intrusive but requires specialist skill and training.
Please contact us if you require further information