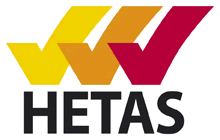 HETAS Objectives
Promote and monitor continuous improvement in the safe installation and use of solid fuel appliances, systems, chimneys & flues, and in their maintenance.
Encourage continual improvement of products and promote high standards of quality, design, safety and efficiency.
Lead the industry in updating & maintaining uniform standards of education & training at all levels to ensure safe and efficient installation and utilisation of solid fuels, systems & appliances.
Working with stakeholders to promote to the wider industry and its customers the means & benefits of achieving the safe and efficient use of solid fuels, the raising of standards & encouraging the provision of advice and guidance to solid fuel users.
Influence legislation, regulations & policies at national & international levels, that affect the use of solid fuel and solid fuel appliances, systems and related products and services.
Ensuring that HETAS is seen as offering an understandable and secure route through safety standards and relevant regulation in support of our organisational purpose.
Please click to read more about HETAS